Crete Senesi E-Bike Tour
Explore the Crete Senesi of the Val d'Orcia with an e-bike tour
Crete Senesi e-bike tour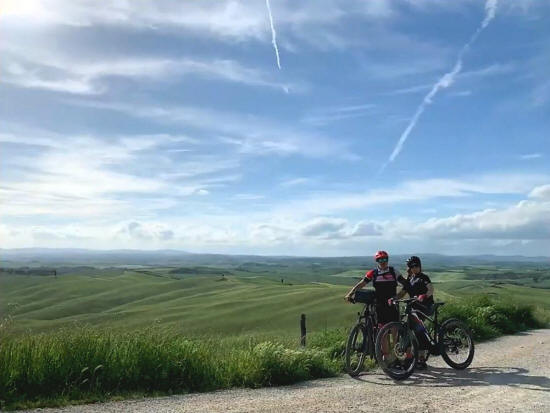 Have you heard of the lunar landscape of parts of the Val d'Orcia in Tuscany? That's a bit of an exaggeration but there's no doubt that this area, so difficult for agriculture, is spectacular to visit. Our one day e-bike tour in the Crete Senesi provides the opportunity to explore this are of Tuscany close up. The clay soil mixed with rock salt and chalk, called mattaione, represents the sediments of a Pliocene sea that existed here in the Val d'Orcia during the period between 2.5 and 4.5 million years ago. The result is this amazing "lunar" landscape. The legendary white roads of Tuscany are genuinely white here because of the clay soil, and cycling along them provides an experience that is almost a rite of passage. This is a true Tuscany experience.
Don't miss it!Our tours include modern ebikes, accommodations, meals, entry tickets and much more.
Crete Senesi © ammonet InfoTech 2010 - 2021. All rights reserved.